Last weekend was a special one for the Rugrat...we had his first ever birthday party that included friends
(before that, it was all sweet family parties)
. I
idiotically
invited all of his classmates because
normally
about half respond, right? We ended up with
15
three/four/five/six year olds in our home! Oy vey! Still, it went off without a hitch & the Rugrat had a blast so that's all that matters!
Rugrat requested a pirate party
(to which I may or may not have squealed at...you decide) +
I set to work. I decided on a red, white + black colour scheme + it was super easy
(with a birthday around Halloween)
to find pirate stuff, skulls & more for decor. Perfect! The menu consisted of pizza, cannonballs
(meatballs)
, goldfish crackers, veggie cups + fruit skewers. Dessert was cake + chocolate pops...both made by me!
As part of the
loot
, when guests arrived they received a pirate sash + then we headed out to the backyard. In the yard, we had set up three games...
walk the plank
(self explanatory),
crocodile lake
(a bucket with a crocodile head on top + you had to throw balls into the croc's "mouth") +
treasure hunt
(a bucket filled with rice + coins where guests were blindfolded + hand to hunt for "treasure" for 30 seconds)
. At the end of each game, guests received another "piece" of their pirate outfit...hat, sword + eye patch...so at the end, every guest was dressed as a pirate + they got to take their costumes home! After the games, we came inside to eat. Once the guests had their plates, they were sent into our basement where we set up an episode of "Jake + The Neverland Pirates" to watch. I'll admit that they were quiet for the first 10 minutes + then they
destroyed
the basement playing with toys!!! After the show, they were called upstairs for the cake presentation + Rugrat opened his
(fantastic)
gifts.
As requested
(or was that in my head?)
here are some of deets: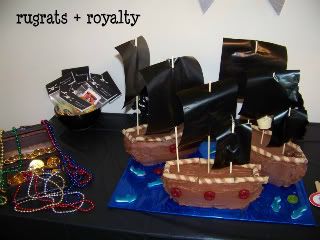 The dessert table...cakes baked & decorated by hubster & I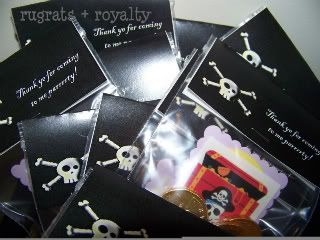 The lootbags...gold choclate doubloons...that's pirate speak for money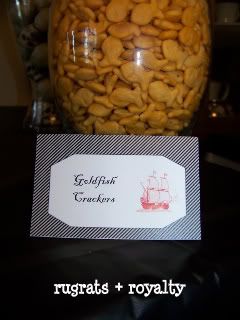 The food tent cards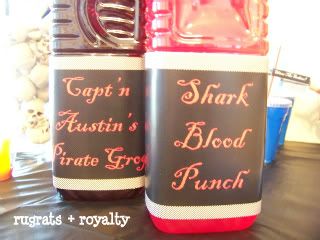 An (awful) shot of the beverages...actually grape juice & fruit punch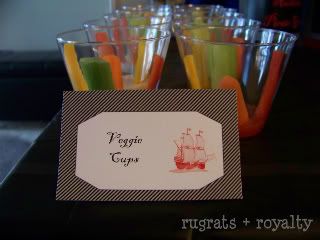 Vegetables + dip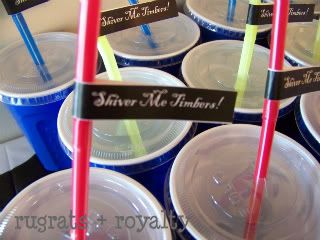 Straw flags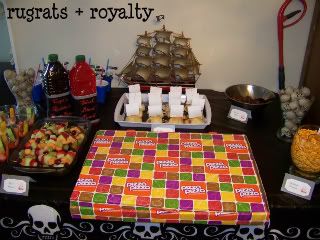 The full tablescape...disregard the mop handle in the back right corner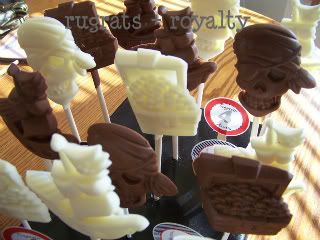 Homemade pirate chocolate pops for the dessert table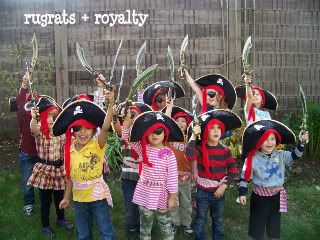 The attendees dressed in their garb after the games...Rugrat is right corner front...doesn't he look like he's having so much fun?!?
A (rare) picture of the host + hostess...hubby (who went all out to the joy of the Rugrat...such a great Daddy!) + I dressed in our pirate finery
We had an absolute blast! Another pic of the invite to follow soon.
So tell me friends...do you have any fabulous parties to share?!?
I participate in the link parties found
HERE