We've decided
(for my sanity...not the kids)
...to set specific activity days over the summer. Mondays, we go to the library. Wednesdays are craft day + Fridays are "adventure" day. The other days are left free for errand running + free play. It's been working out well so far. Our first craft is this adorable octopus...here are the deets: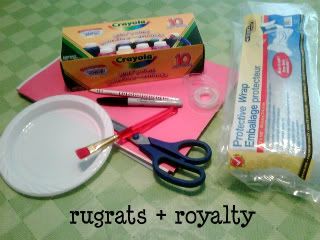 Supplies Needed:
paper or plastic plate
bubble wrap
construction paper
paint
pencil
black marker
scissors
paint brush
sticky tape
Step One:
Using your pencil + black marker, draw a set of eyes for the octopus.
Step Two:
Using sticky tape, stick the eyes to bottom edge of the paper/plastic plate.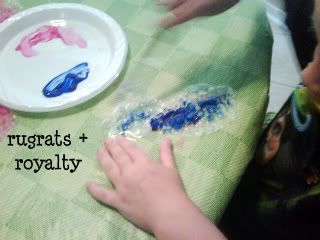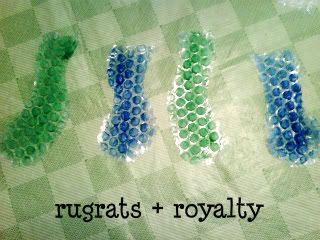 Step Three:
Cut out "wavy" strips from the bubble wrap (obviously younger children should have this done by an older person). Paint bubble wrap (on the bubble side) with paint brush using colours of your choice.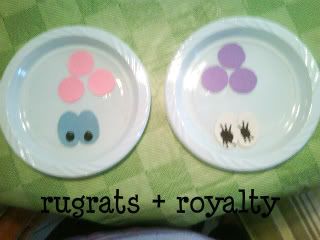 Step Four:
Cut 3 circles of construction paper in same or various sizes + using sticky tape, tape to the top of the paper/plastic plate.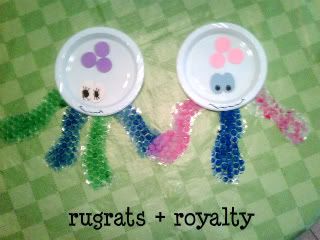 Step Five:
When octopus legs are dry, stick them to the back of the paper plate, bubble side up. Draw a mouth on your paper/plastic plate edge.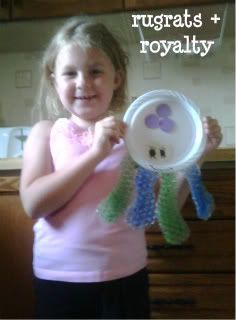 Step Six:
Take picture of your gorgeous daughter who looks super proud of herself with her new octopus friend.
The best news? This kid craft uses a lot of items that you should already have laying around the house keeping costs super low! Here's my run-down:
Nifty + Thrifty:
paper or plastic plate - had already - $0
bubble wrap - Dollarama - $1
construction paper - had already - $0
paint - had already - $0
pencil - had already - $0
black marker - had already - $0
scissors - had already - $0
paint brush - had already - $0
sticky tape - had already - $0
TOTAL - $1
P.S. Sorry for the crappy pictures...as usual, when I want to use it, my camera batteries died so all hail the mighty Blackberry to save the day!
P.P.S. Yes, we know that octopii (?) (octopuses?) have 8 legs...our plates were just a bit small. So you can use a bigger plate or use it to teach your kid some science. Ya, that's it...it wasn't mom's forgetfulness...nah.
I participate in the link parties found
HERE