So, one of our favourite holidays in this house is near...Halloween! We love going all out, creating crime scenes, graveyards & the like. I have fond memories of Halloween as a kid. On one street, there was this one house that totally creeped me out EVERY year. I strive to be like that...*the* house that the kids all hate but love at the same time. I don't usually do much decor in the house (who sees past the hallway?) but thought I'd do a few things as I know the Princess & Rugrat will get a kick out of it. Here's an easy, cheap tutorial for a Halloween Spider garland...it literally cost me $2 y'all! SCORE!!!
Materials Needed: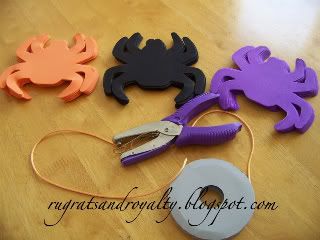 Foam spider cutouts (mine are from Dollarama)




single hole punch (already had)




orange string/twine/ribbon (again, from Dollarama)
Step One:
Punch holes in legs of foam spider (so it lays flat on the string)
Step Two: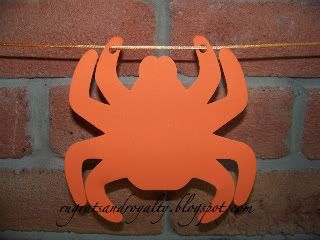 String spiders along, well, string in an order you like.
Step Three: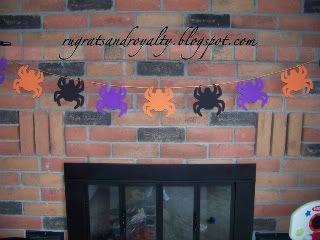 Hang at mantle to take picture & fold up to bring out within the next two weeks!!!
This was *sooooooooooooooooo* easy that it would be a great craft for the kids to join in on too!
Now...onto costumes!